There's nothing that compares to an on-trend bomber jacket on a brisk day. As the chill of fall air starts to become a norm, you're going to need a go-to jacket

—something not just perfect to keep you
warm and cozy, but an outstanding piece to tie any casual look together. When you're looking for a warm, essential outerwear that you can use as your go-to no matter what your look of the day is, look no further than a bomber jacket.
After all, bomber jackets embrace the stylings of vintage army jackets, allowing them a statement-making appeal.
Bomber jackets have a much bigger cultural background than you'd think. They actually date back to World War I, and were more widely known as "flight jackets," created to keep pilots warm during their flights, and were known to be exclusively for this purpose. But, by the time the 1970s came around, the bomber transformed from a practical army-grade piece into a contemporary style choice for the punk rock scene. Guys and gals alike with mohawks, piercings, and tattoos would conglomerate together in their bomber jackets to rock out to the Sex Pistols and the Misfits, making this jacket a representation for nonconformity.
The rebellious feel to bomber jackets didn't die there. It went on to thrive within the grunge movement of the 1990s, early 2000s hip hop, and to the recent counterculture of modern times. This jacket has held a heavy embrace within our society for decades, making it the representation piece of generations dedicated to nonconformity.
However, it seems like everyone has started to embrace the edgy look that comes with bomber jackets. And who can blame them when the style is so fitting for just about everyone? Bomber jackets flatter everyone, plus they're also extremely easy to pair with outfits. During the fall season, that rugged, loose fit of a classic bomber jacket will go well with just about any on-trend outfit. And the bottom line is, like we said before, any jacket that will keep you warm is a necessity this season. And that's all you need for fall: something warm and something stylish.
This season, go for a patch bomber jacket. That will really play up the edgy, grungy feel that captures the epitome of bomber jackets and their distinctive appeal. A patch bomber jacket will tighten up any look, from a distressed denim look paired with your favorite graphic tee to a sleek sweater dress worn with a great pair of suede booties.. Whether you're going for a casual day out look or getting ready for work, the right bomber jacket will effortlessly finish your favorite fall styles.
Not sure how to rock the bomber jacket this season? Not to worry, we're here to make styling simple for you. Below, shop our favorite patch bomber jackets, plus see how we're styling them.
The 7 best bomber jackets to shop this fall
Chiara Ferragni Eye Patch Faux Fur Bomber Jacket
Made with ribbing at the collar, cuffs and hem and two front pockets, this jacket from Chiara Ferragni showcases all of the classic elements we know and love from this style. The embroidered patch at the back features a large eye design that is utterly modern, especially when contrasted against the sleek faux fur makeup of the jacket. Bonus points: you're going to want that cozy faux as we get deeper and deeper into fall.
Team this bomber jacket with a simple white sweater dress and a pair of blue booties to play up the blue in the jacket's patch.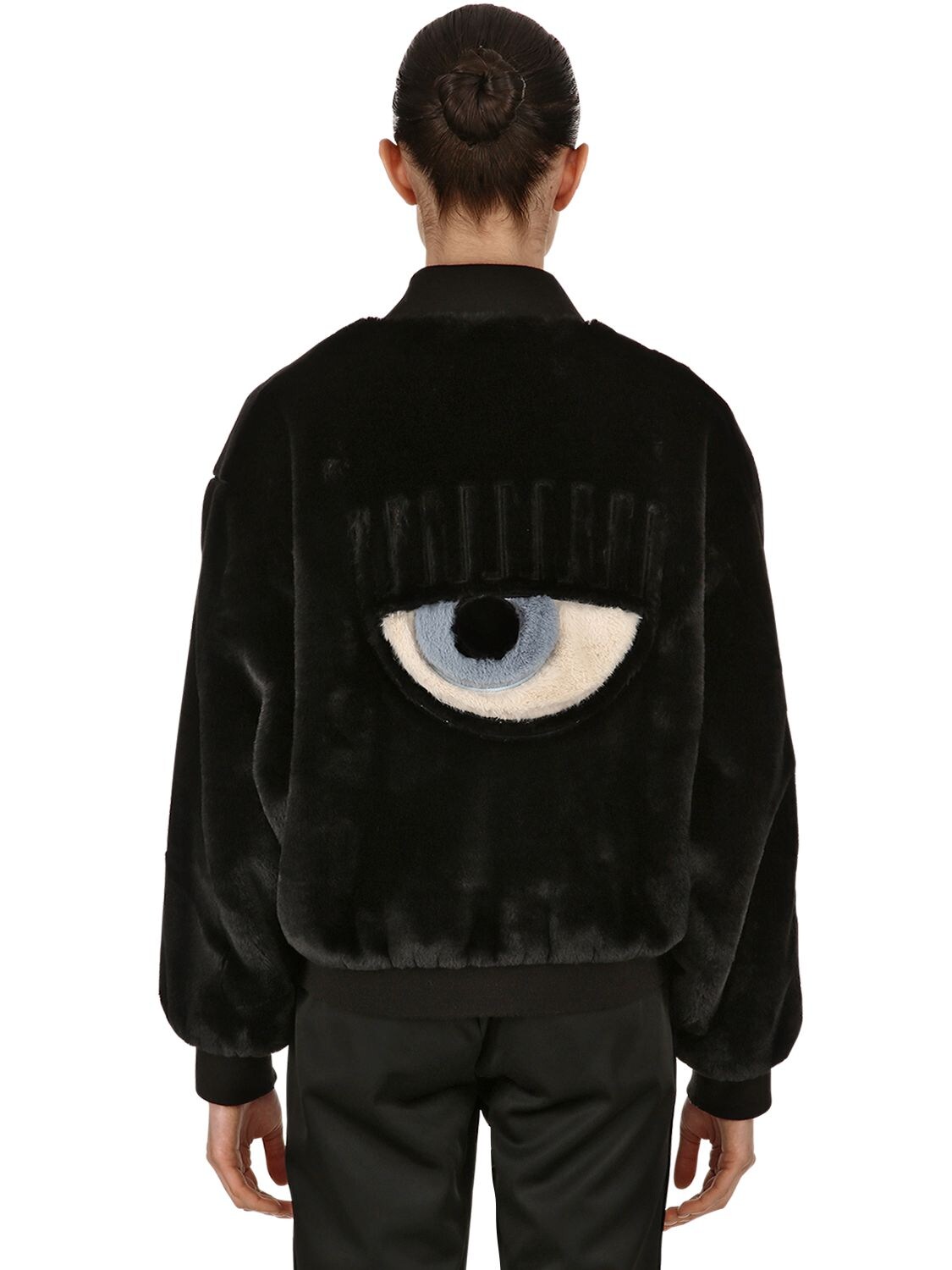 CHIARA FERRAGNI
Eye Patch Faux Fur Bomber Jacket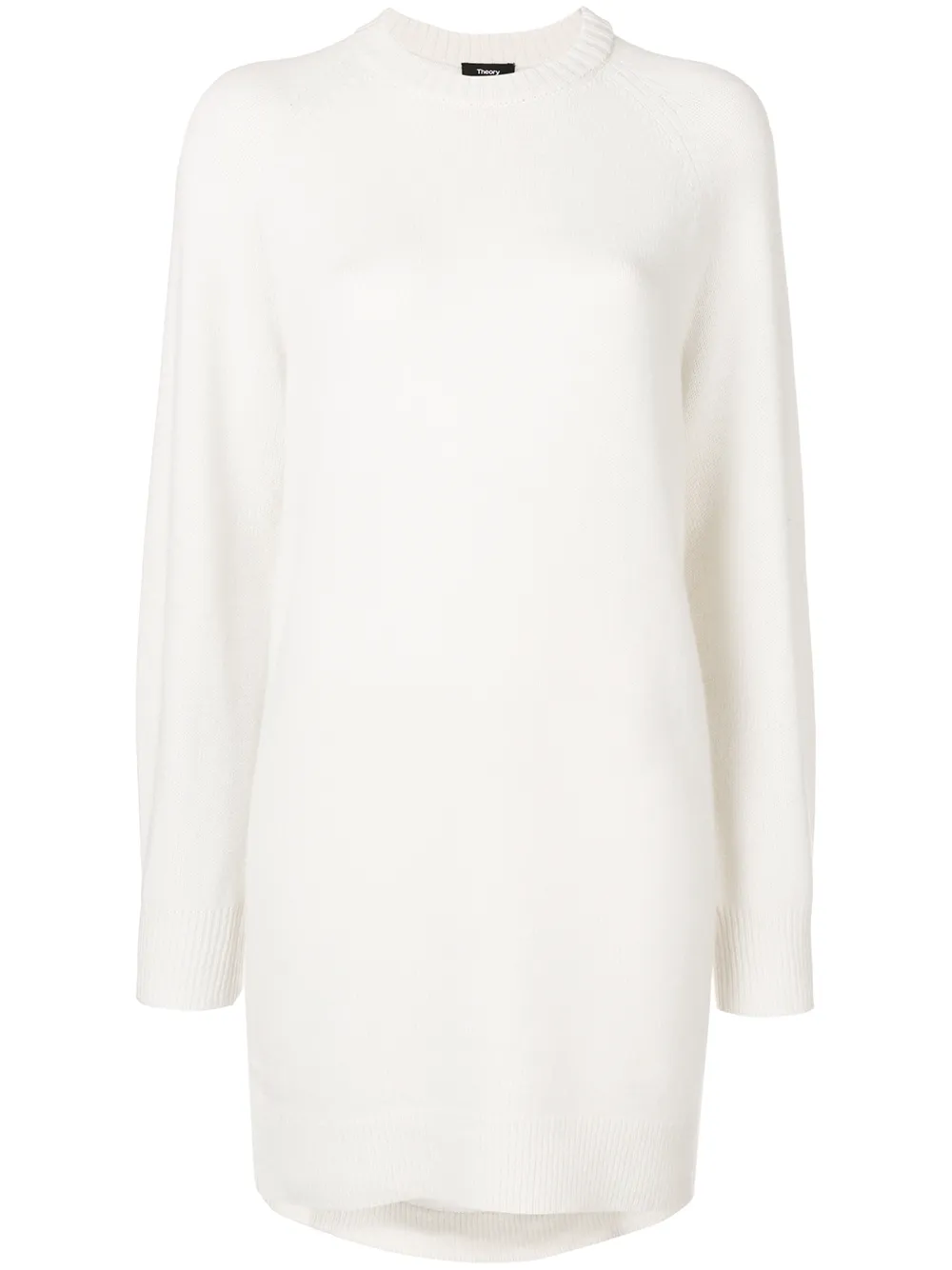 THEORY
fine knit crewneck sweater dress - White
NATURALIZER
Danica Ankle Bootie, Size 9 M - Blue
Wrangler Bomber Jacket
With a sleek leather trim and striped, rib knit cuffs, this red bomber jacket from Wrangler is utterly classic. It features a textured "W" patch at the front to pay homage to its brand, and showcases the typical, waist-length style of the bomber jacket. This piece is lined and has a snap closure at the front, making this a perfect jacket for fall.
This bomber jacket pairs perfectly with a reliable pair of blue jeans and canvas sneakers.
Ports V V-Patch Bomber Jacket in Gray
This unisex jacket from luxury streetwear brand Ports V features a standup collar, press stud fastening, and two pockets at the front to ensure the timeless look of bomber jackets. Its camel and gray coloring is perfect for fall, and the V patch at the front gives the classic look of a letterman varsity jacket. Its cozy polyester/nylon design keeps this bomber jacket on point for the season.
This jacket will go well with just about anything. Try wearing it with a light wash skinny jean and low gray ankle boots with a contrasting heel.
PORTS V
v patch bomber jacket - Grey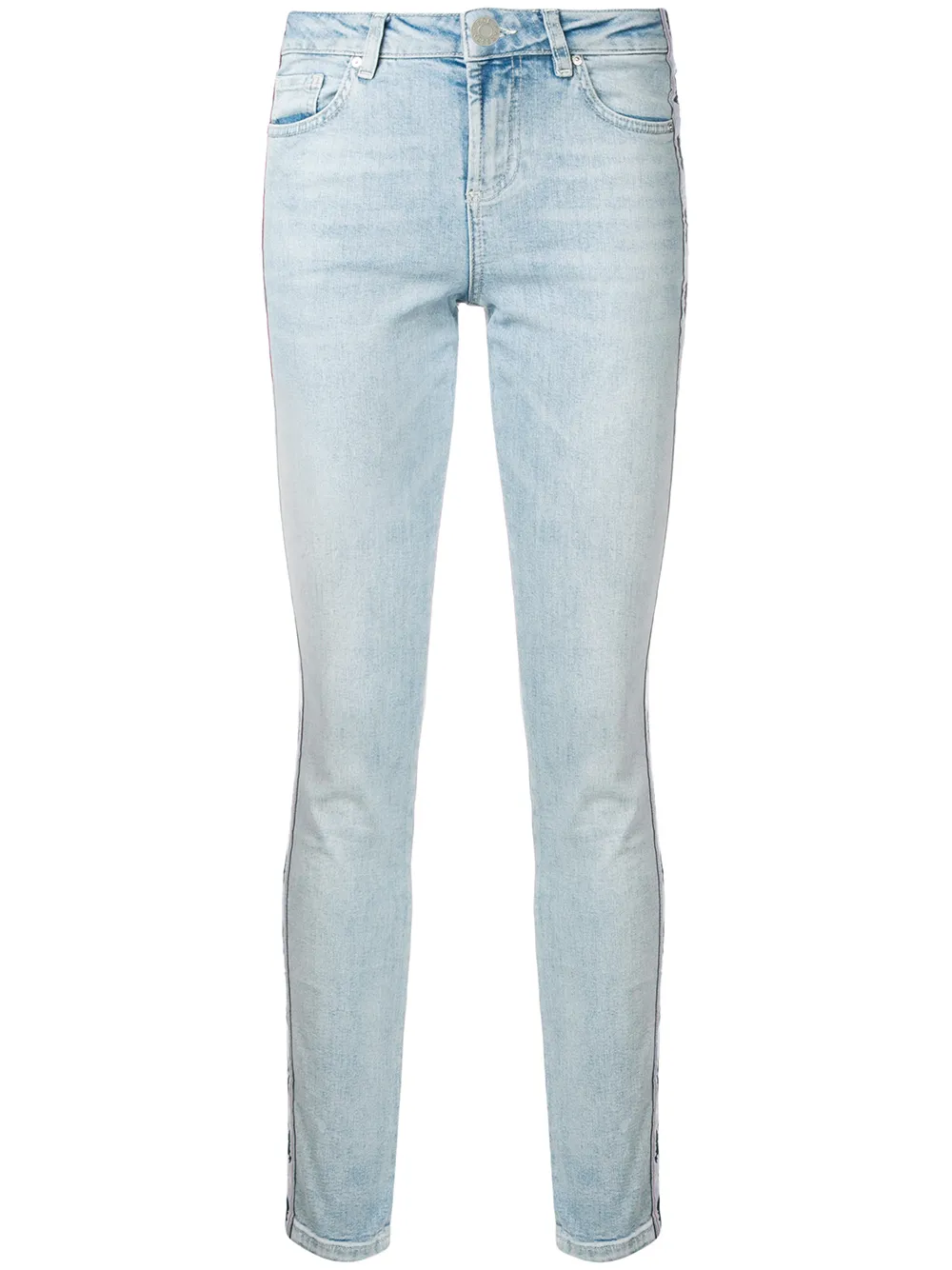 ZOE KARSSEN
light wash skinny jeans - Blue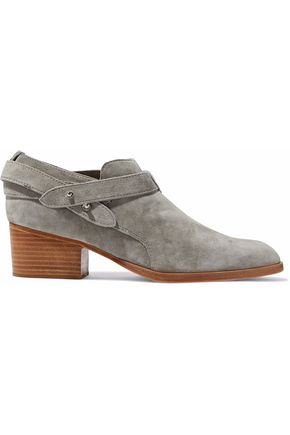 RAG & BONE
Woman Harley Suede Ankle Boots Gray Size 38
KTZ A
ll-Over Patch Bomber Jacket in Black
From impactful cult brand KTZ, this black and white bomber jacket features all-over patches that give that edgy punk vibe that harkens back to the history of bomber jackets. Its zip closure and double front pockets keep this jacket in line with the bomber style.
Finish the look with a funky t-shirt dress and thigh high boots to bring in more of an edge. Maybe try the boots in a bright color.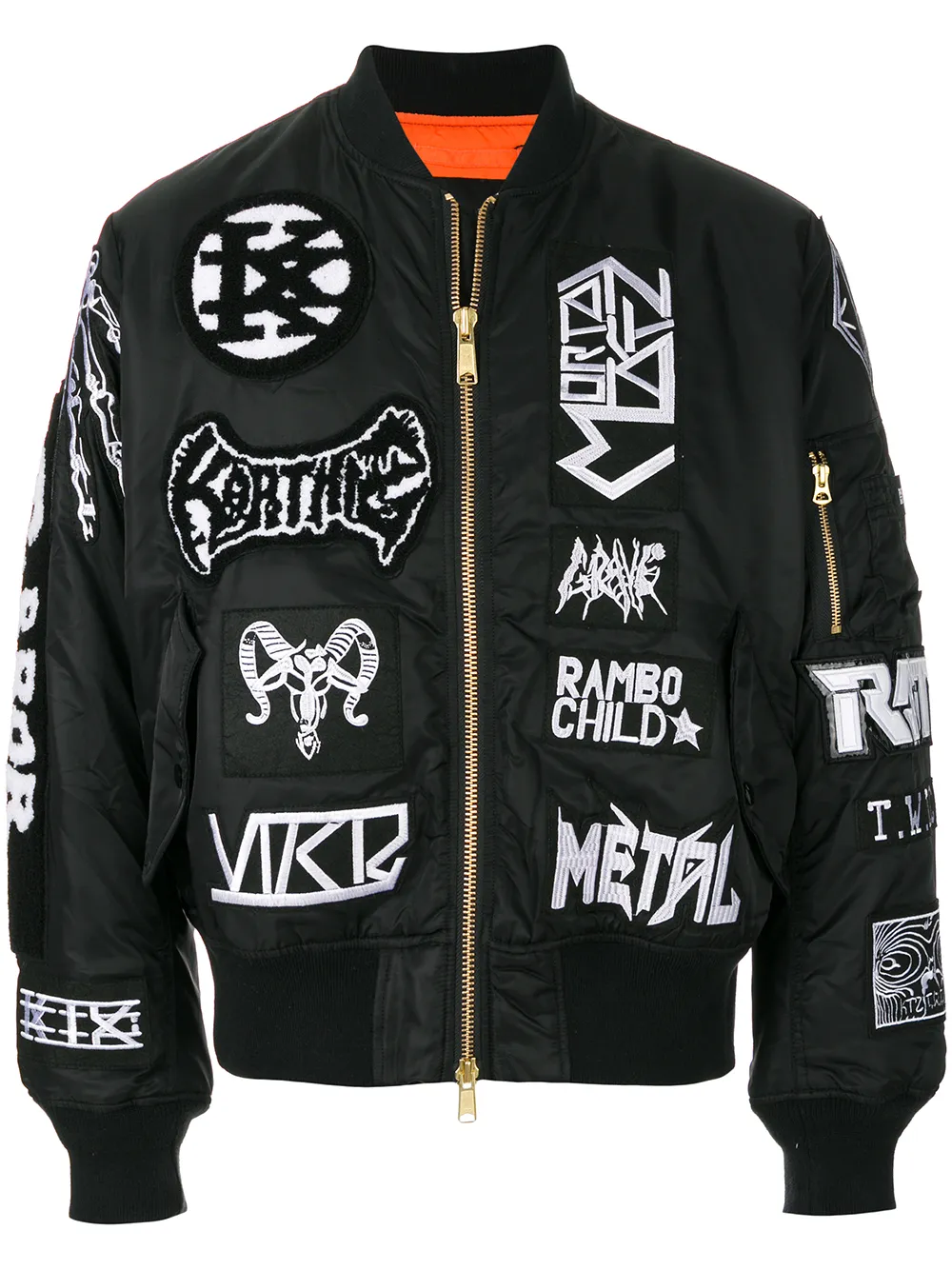 KTZ
all-over patch bomber jacket - Black
HOUSE OF SUNNY
Long Sleeve T-Shirt Dress With Corset Waist - Gray
STUART WEITZMAN
Lowland thigh high boots - Pink & Purple
Love Moschino
Woman Appliquéd Cotton-blend Faille Bomber Jacket in Peach
Designed in a cotton-blend fabric to keep it soft and cozy, this jacket from Moschino encompasses the typical features we see in most bomber jackets: ribber trips, a zip closure at the front, and two slanted pockets at the front. Its single, simple, heart-shaped patch at the front reads the brand name and is done in blue with stars and a red swirl, purposefully reminiscent of the classic NASA logo.
Wear this jacket with cuffed boyfriend jeans and wedge booties for a casual daytime look.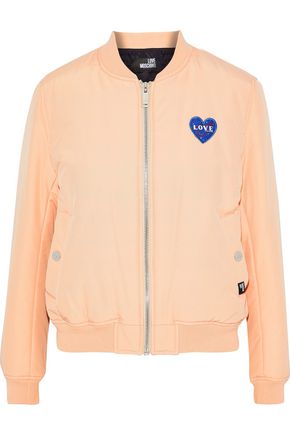 LOVE MOSCHINO
Woman Appliquéd Cotton-blend Faille Bomber Jacket Peach Size 40
VINCE
Cuffed Union Slouch Cotton Jeans
A.P.C.
Suede ankle boots
Gucci Logo Patch Bomber Jacket
This wool jacket from Gucci's Fall 2018 collection features contrasting red faux fur trims, two front flap pockets, and long sleeves like many bomber jackets. It has a single logo patch at the chest and is rendered in wool for that quintessential cozy fall feel.
This jacket goes nicely with dark wash jeans and a pair of canvas sneakers for a wear-anywhere daytime outfit.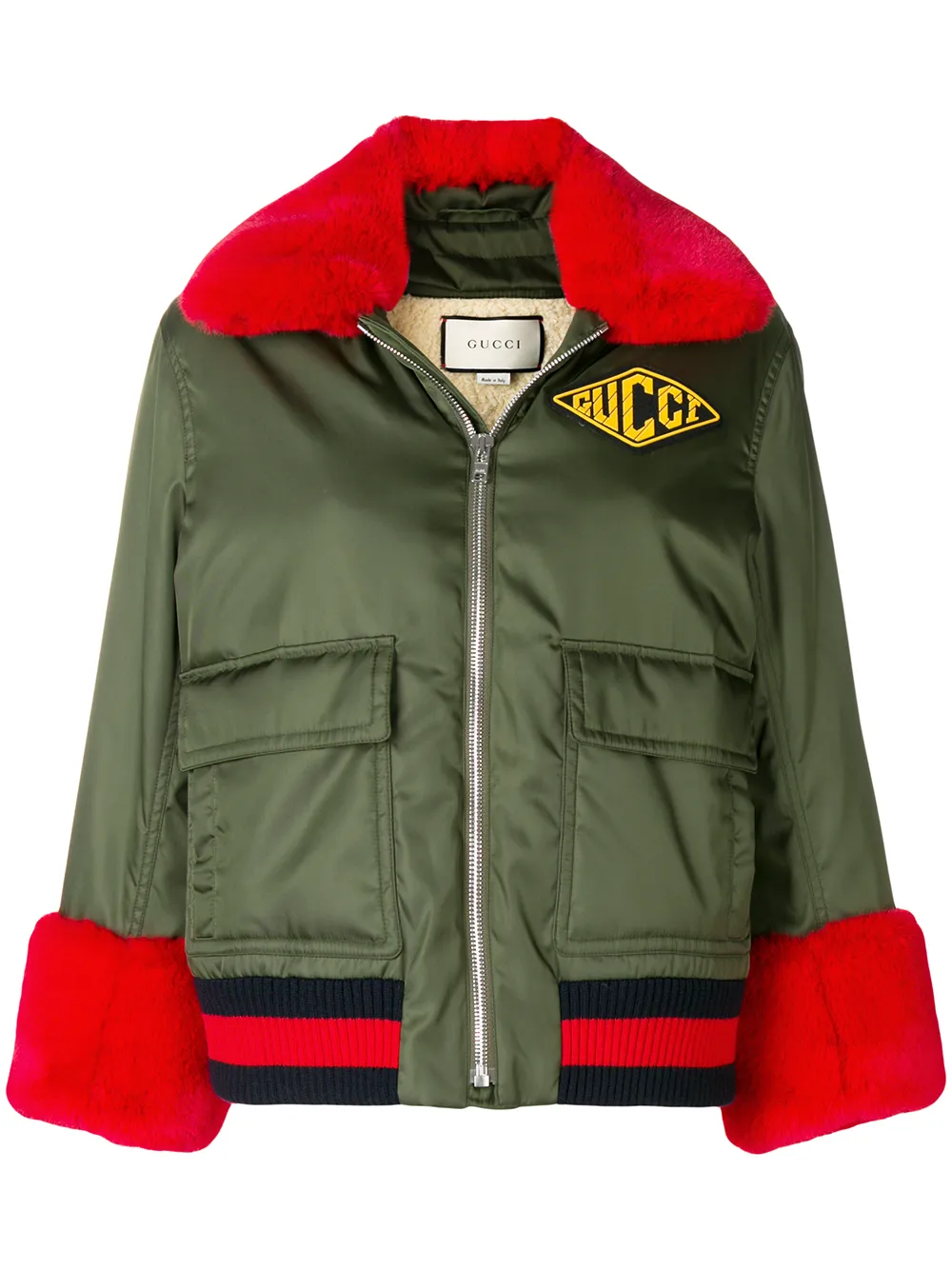 GUCCI
logo patch bomber jacket - Green
FRAME DENIM
Nouveau Le Mix jeans
KEDSR
Keds 'Champion' Canvas Sneaker, Size 10 M - Grey
& Other Stories
Patch Bomber Jacket
Done in a soft color palette dominated by shades of pink, this bomber jacket from & Other Stories is a chic selection. Its sporty-inspired patches allow a stark contrast to the overall feminine piece, plus add a little touch of humor to the lighthearted jacket. And just like all of our favorite bomber jackets, this rendition features a zip closure at the front and two front slant pockets.
For a look more on the girly side, pair this jacket over dark skinny jeans and classic loafers.
OTHER STORIES
Patch Bomber Jacket - Pink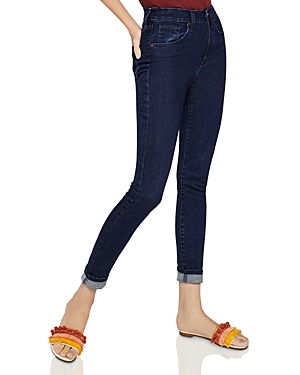 BCBGMAXAZRIA
Mid-Rise Skinny Jeans in Dark Wash
SAM EDELMAN
Lior Loafer, Size 6 M - Black
Off-White P
atch Bomber Jacket
This Off-White bomber jacket is made with both white virgin wool and cashmere blend, so you know you're getting a comfortable, soft, and most importantly, warm jacket with this option. It's got the same ribbing details and side pockets we expect from bomber jackets, but this jacket has a button closure at the front rather than zip. This one also has two patches at the front, adding to its unique flair.
You can wear this versatile piece with a monochrome sweater dress in any colors and chunky-heeled white ankle boots.
OFF-WHITE
patch bomber jacket - Black
CHRISTIAN WIJNANTS
Sweater Dress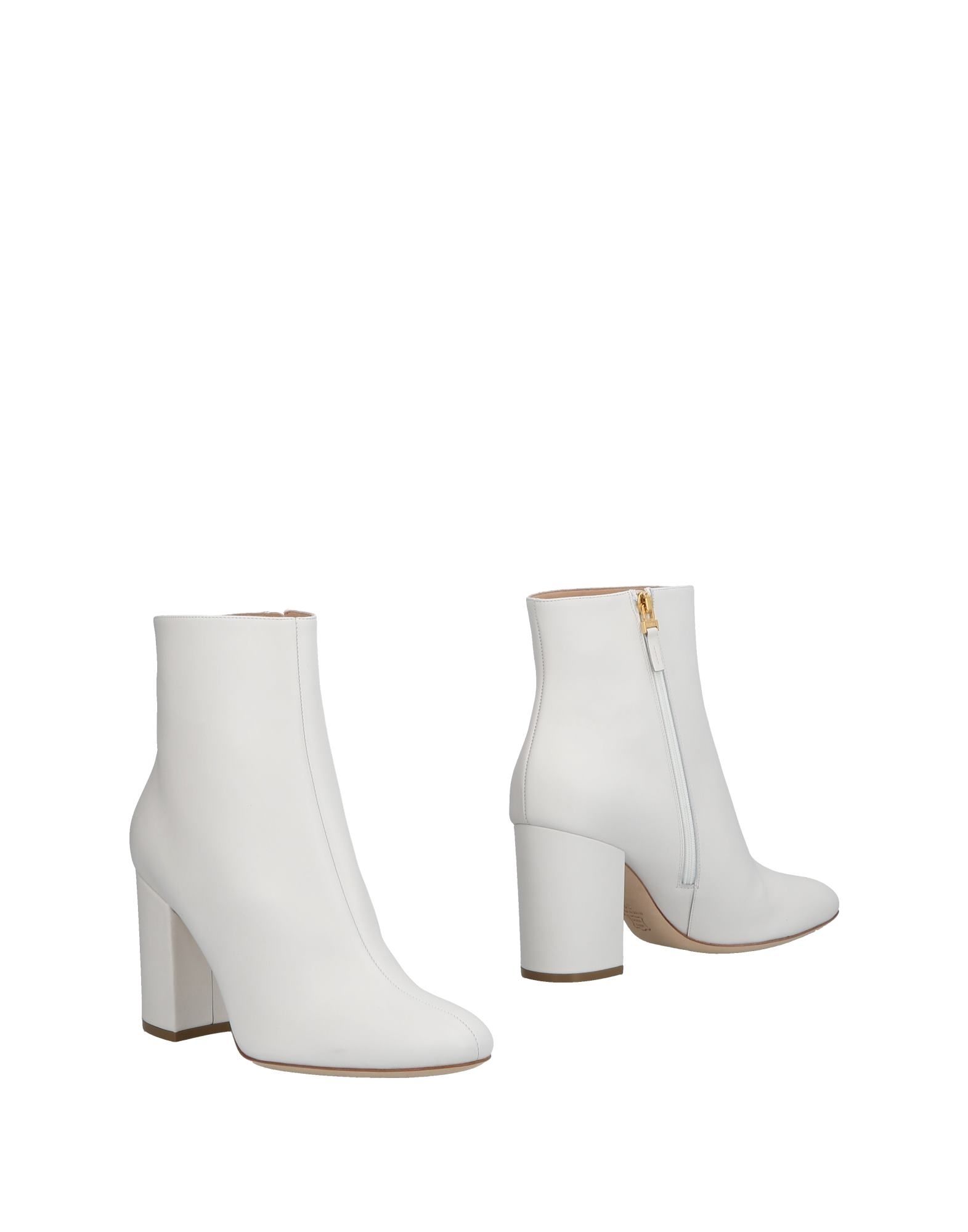 LERRE
Ankle boots