Sheer and lace are not just for summer—the idea of a cover up is traditionally related to beach wear, but why can't we bring the more ethereal, summery trends into fall. For a society so involved with sustainability and recycling, shouldn't we want to recycle our seasonal styles and make trends work from season to season? Let's embrace all year round styling.
The idea of the cover up originally stemmed from the traditional kimono—which literally translates to "the thing worn" and has been one of the most popular picks for covering up not just in the summer, but year-round. A cover up reliable style that stays elegant and airy even during the most blazing of summer heat waves, but if you play your cards right and style your look appropriately, your cover ups can be warm, cozy, and weather appropriate for fall.
While revered for its light materials and ethereal feel in summer, the notion that makes a cover up great for fall is the same as one of our favorite styling tricks to use this season: layering. If you think about it, you can wear any of your favorite pieces from summer into fall, maybe as far as into December, if you know how to layer right. And what is great about layering a cover up piece is that most come in sheer or lace styles, so you can layer it over other pieces and make for an intricate outfit and show off multiple layers at once.
If you can make the most quintessential of summer styles work for fall, not only will that prove you're a pro when it comes to sustainability, but you will have accomplished a remarkable styling feat. You owe it to yourself to take a risk, pull that cover up back out of storage, and team it with a pair of jeans and ankle boots to show off your sartorial skills.
Shop a few ideas on how you can wear a cover up dress this fall:
L*Space
Megan Cover Up
With a split neckline, side slits, and an asymmetrical hem, this unlined semi-sheer dress definitely seems more apt for the beach than brisk fall days. But when teamed with a timeless pair of skinny jeans in a medium wash, a sweater vest in a neutral tone and color-matched heeled ankle booties, this little beachy number is just what you need for a fresh fall look.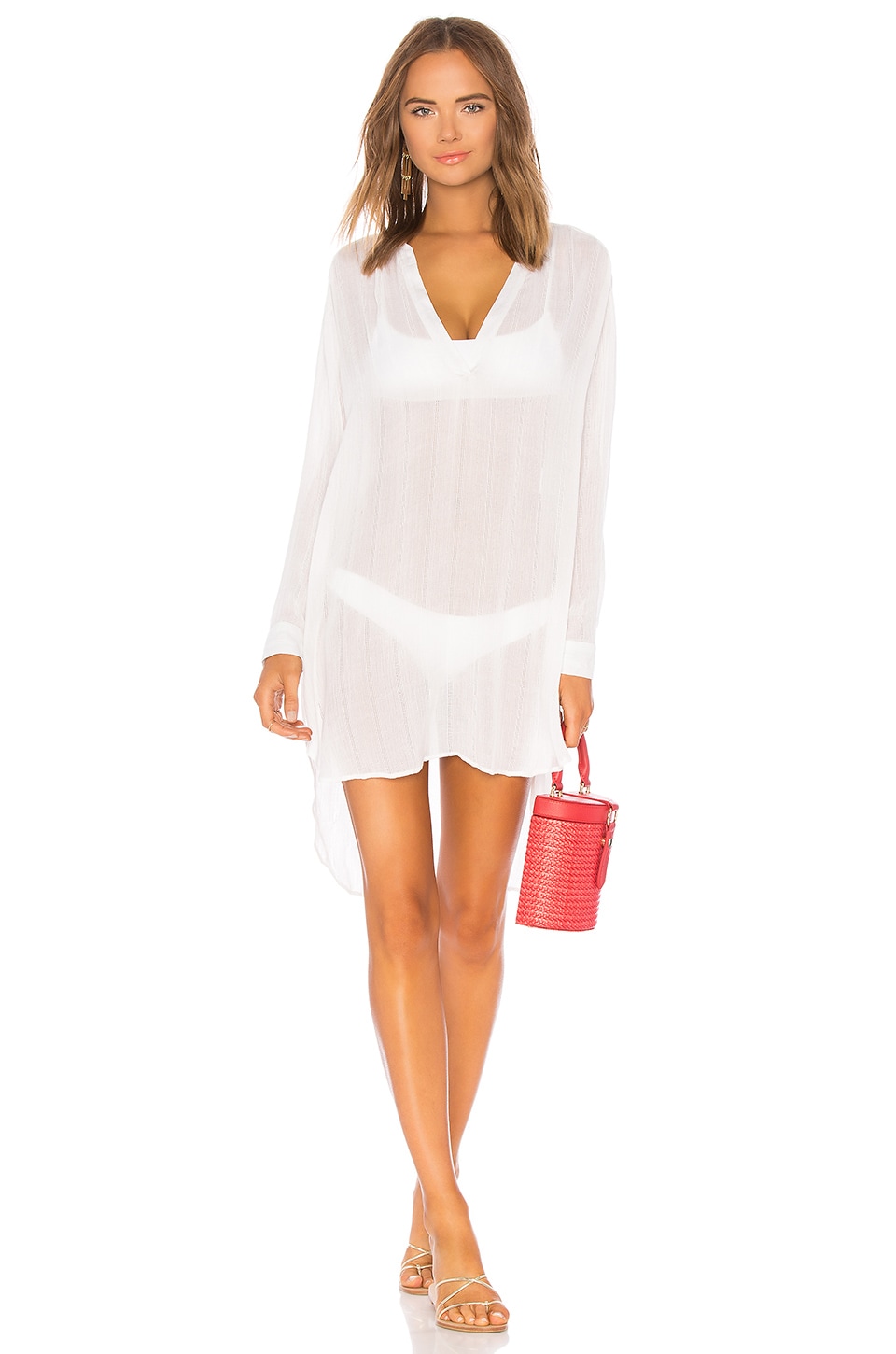 L*SPACE
Megan Cover Up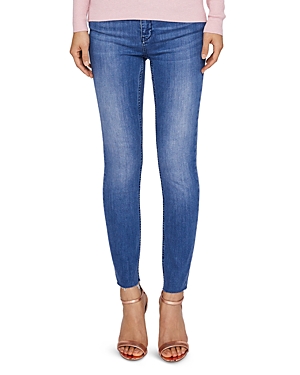 TED BAKER
Aaciee Raw-Hem Skinny Jeans in Mid Wash
THEORY
Cashmere Sweater - Beige
AQUAZZURA
Suede ankle boots
PILYQ
Raven Cover Up
This crochet fringe, totally see-through dress definitely does not scream fall. But with careful styling and throwing in the right seasonal pieces, this piece can definitely be your go-to autumn look. Try it with ponte leggings, a tunic top, and Chelsea boots in a neutral tone.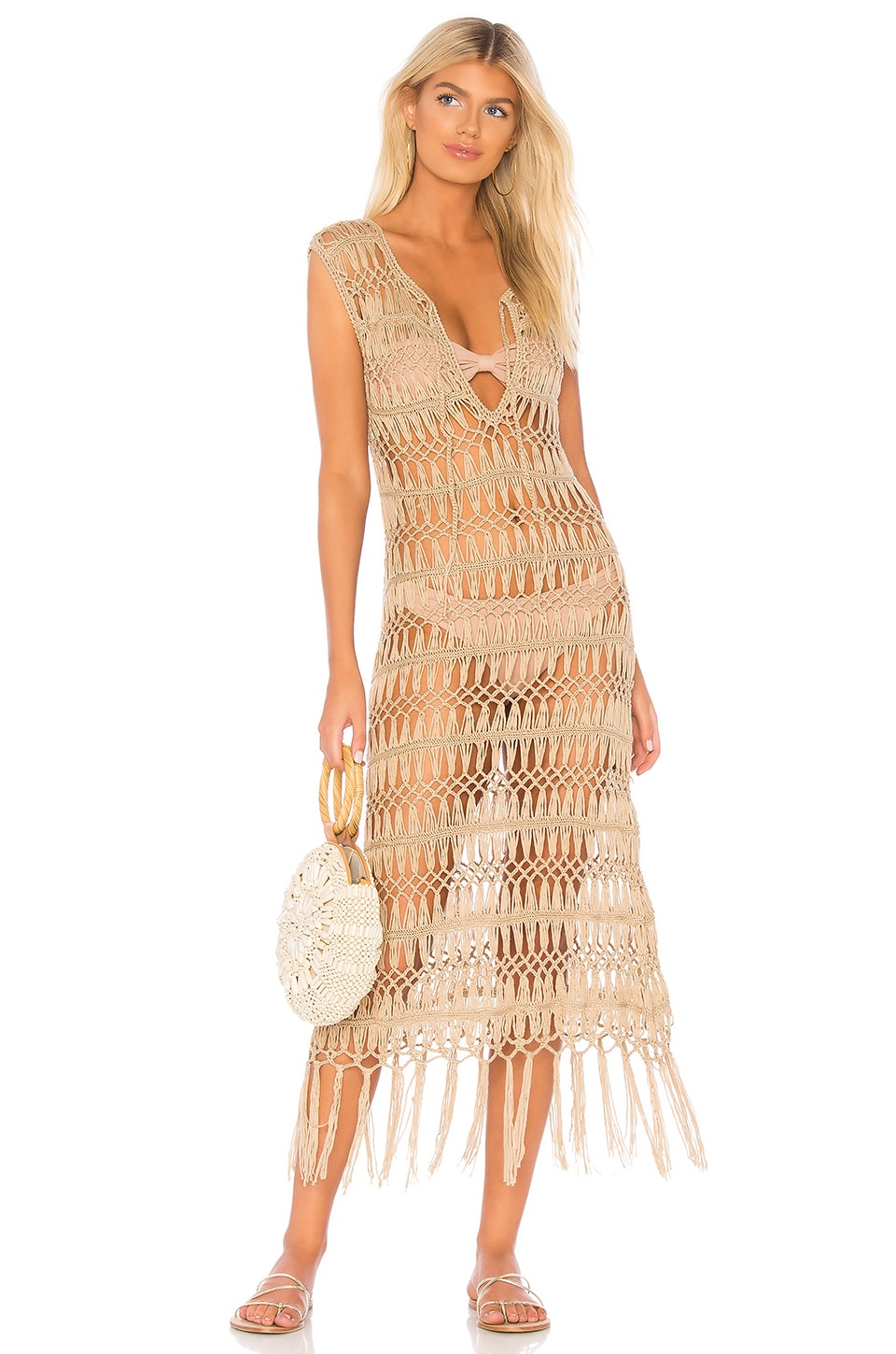 PILYQ
Raven Cover Up
ST. JOHN
Denim Ponte Crop Leggings
COS
LIGHT COTTON-VOILE TUNIC
COMMON PROJECTS
Chelsea suede ankle boots
Boamar
Pie Rose Cover Up
Done in semi-sheer fabric with a lovely floral pattern and an open front with a tie-waist, this maxi-length number is the right way to bring summer elements into your fall rotation. Our advice? Team this dress over a beige knit dress with short sleeves, preferably in a shorter length so you can then add in slouchy over the knee boots for a relaxed and cozy fall feel. Then throw a large tote over your shoulder and you're good to go.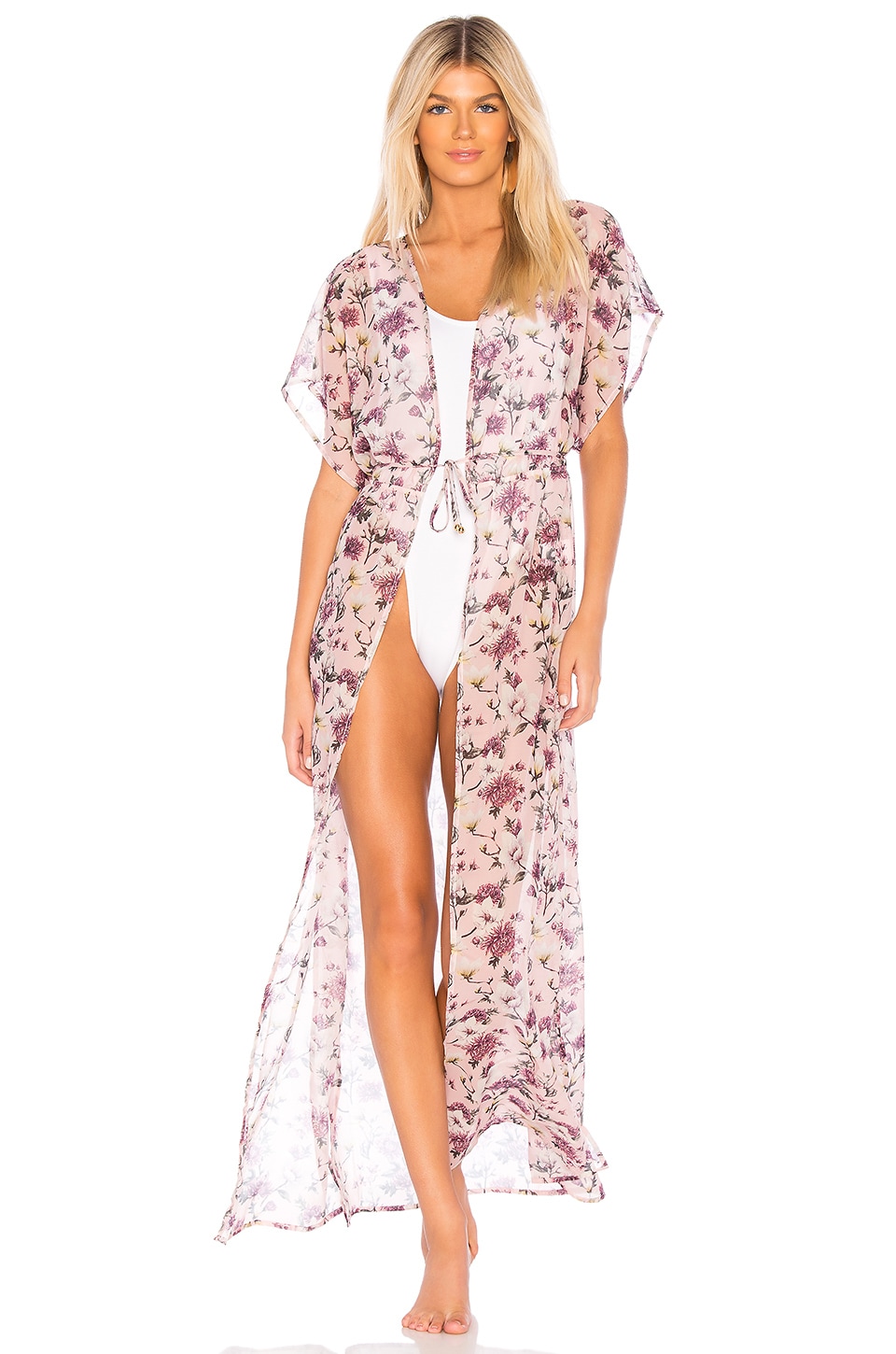 BOAMAR
Pie Rose Cover Up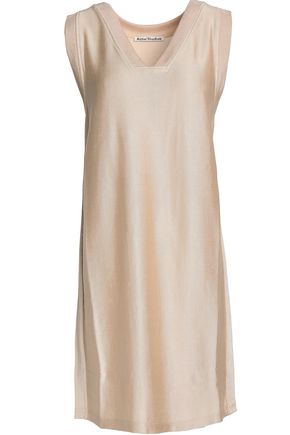 ACNE STUDIOS
Woman Knitted Mini Dress Beige Size L
JEFFREY CAMPBELL
Controlla Slouch Over The Knee Boot
LOVE MOSCHINO
Quilted Tote Bag
PILYQ Joy Lace Cover Up
We've tried a lot of sheer, but let's move into lace. The great thing about lace looks for fall is that it looks great with the knits we're already stocking up on. Try this v-necked, thigh-slitted dress over a long sleeve sweater dress to bring in a good contrast. Ankle boots and a backpack can complete the relaxed look.
PILYQ
Joy Lace Cover Up
CHAMPION
Cotton-blend sweater dress
VIONIC
Kennedy Ankle Bootie, Size 8.5 M - Brown
SOLE SOCIETY
Buhck Backpack -
Influence
Maxi Split Front Mesh Beach Cover Up
The center upwards v-slit of this short-sleeved sheer dress allows for an interesting and distinctive appeal. Wear this one with a simple selection underneath to really bring attention to the unique detailing. Anice dark skinny jean, a crisp, gray t-shirt, and sleek white ankle boots should do the trick.
INFLUENCE
Maxi Split Front Mesh Beach Cover Up - White
HUDSON JEANS
'Collin' Skinny Jeans
THEORY
Tolleree Cashmere Sweater - Gray
ISABEL MARANT
Rilows leather ankle boots
L*Space
Sunset Cover Up
This dress brings in summer's two favorites: sheer and lace. The goal with styling here is to not take away from its detailing. So all you need is a long sleeve tee, a pair of biker shorts and a nice gray sneaker.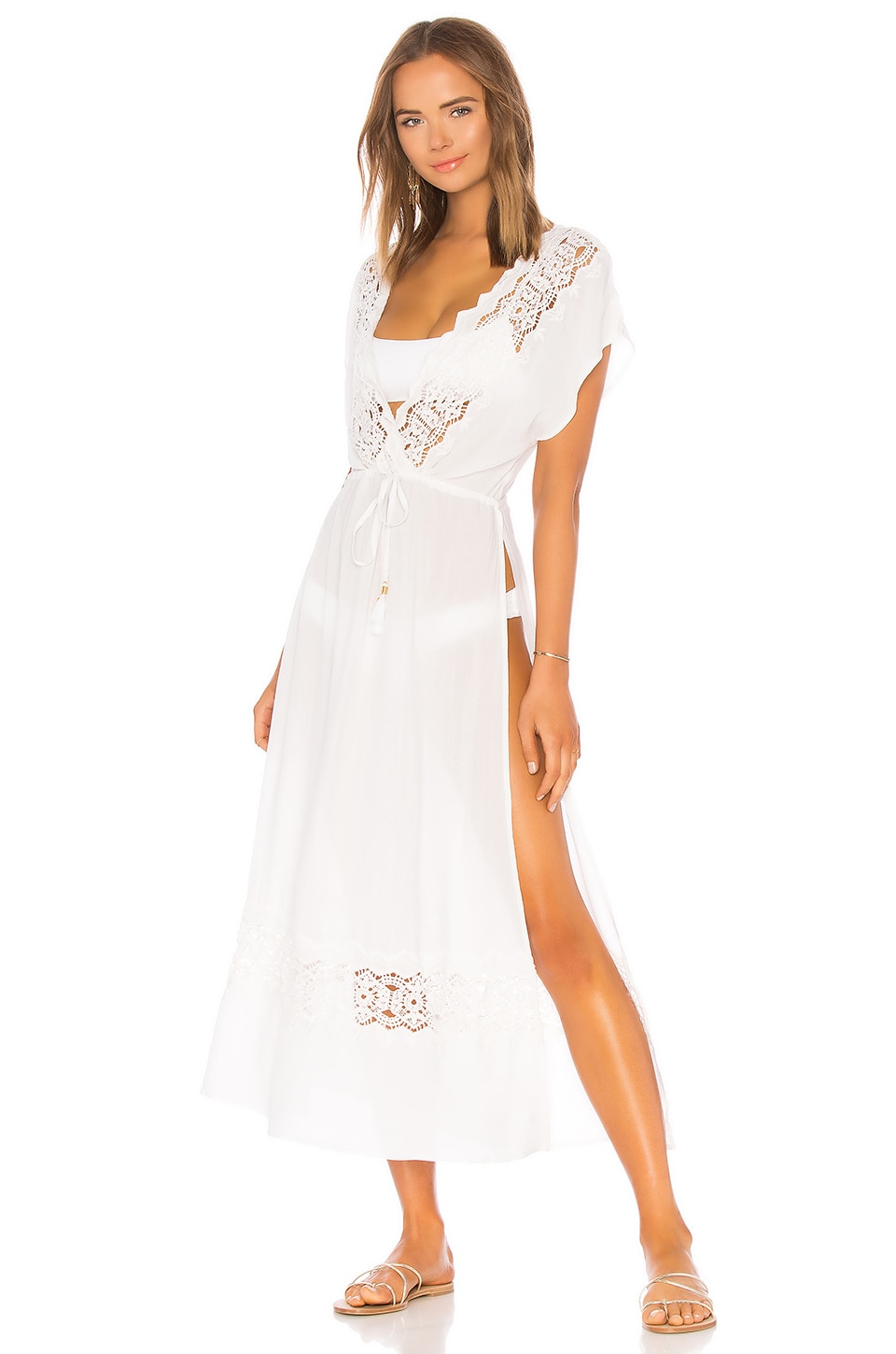 L*SPACE
Sunset Cover Up
ASOS CURVE
ASOS DESIGN Curve Mix & Match Long Sleeve Pajama Tee - Gray
BEYOND YOGA
High Waist Biker Shorts
SUPERGA
2790 Gray Suede Flatform 4cm Sneakers - Gray
Tabula Rasa
Idris Fringed Knit Cover Up
Tabula Rasa is the best choice for bringing together the knitwear we love from fall and the ethereal vibes we love from summer. Pair this chunky knit dress over a pair of gray boyfriend jeans and a crisp denim shirt. And then all you need is a comfy pair of ballet flats to complete the cozy look.
TABULA RASA
Idris Fringed Knit Cover Up - Womens - Multi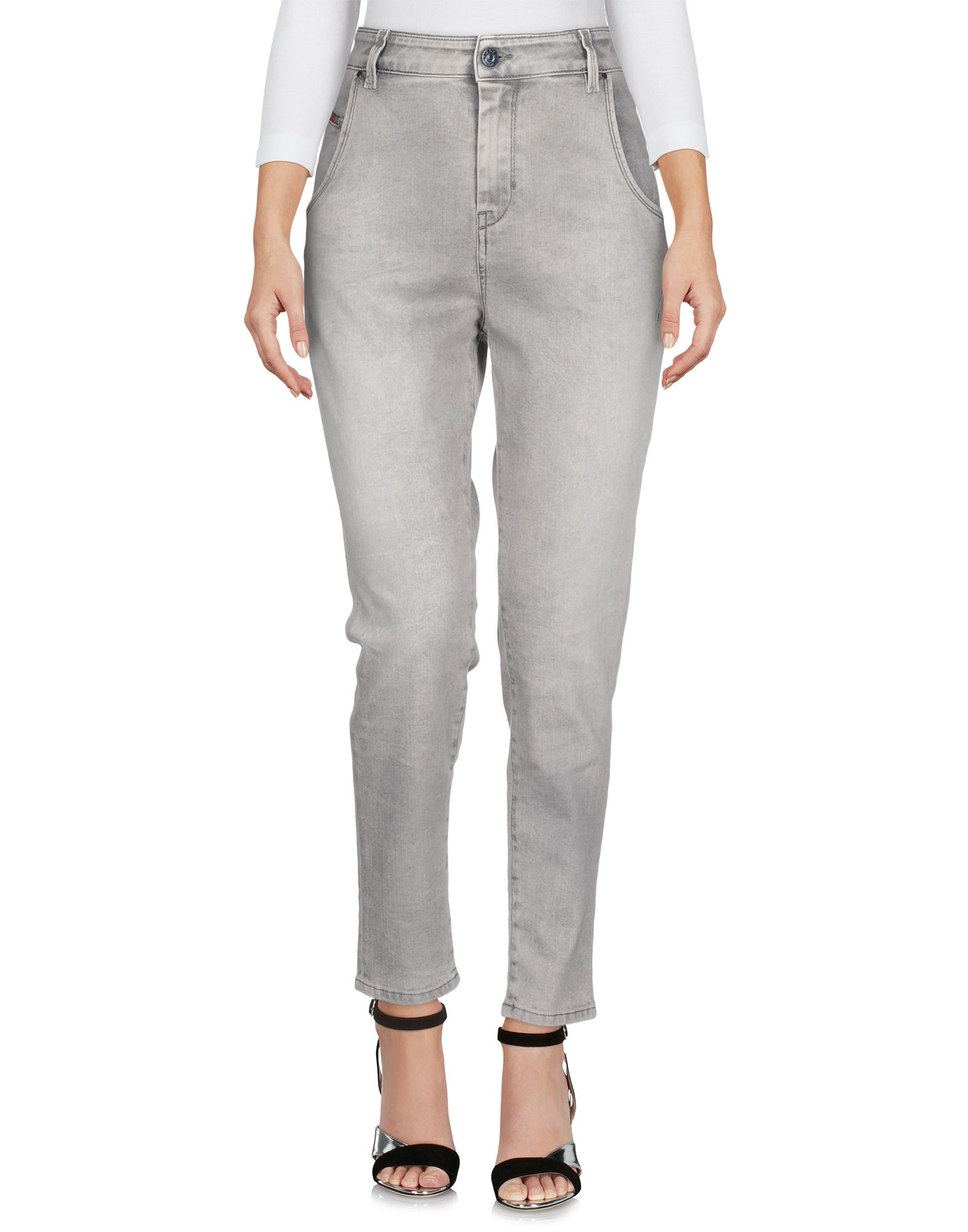 DIESEL
Jeans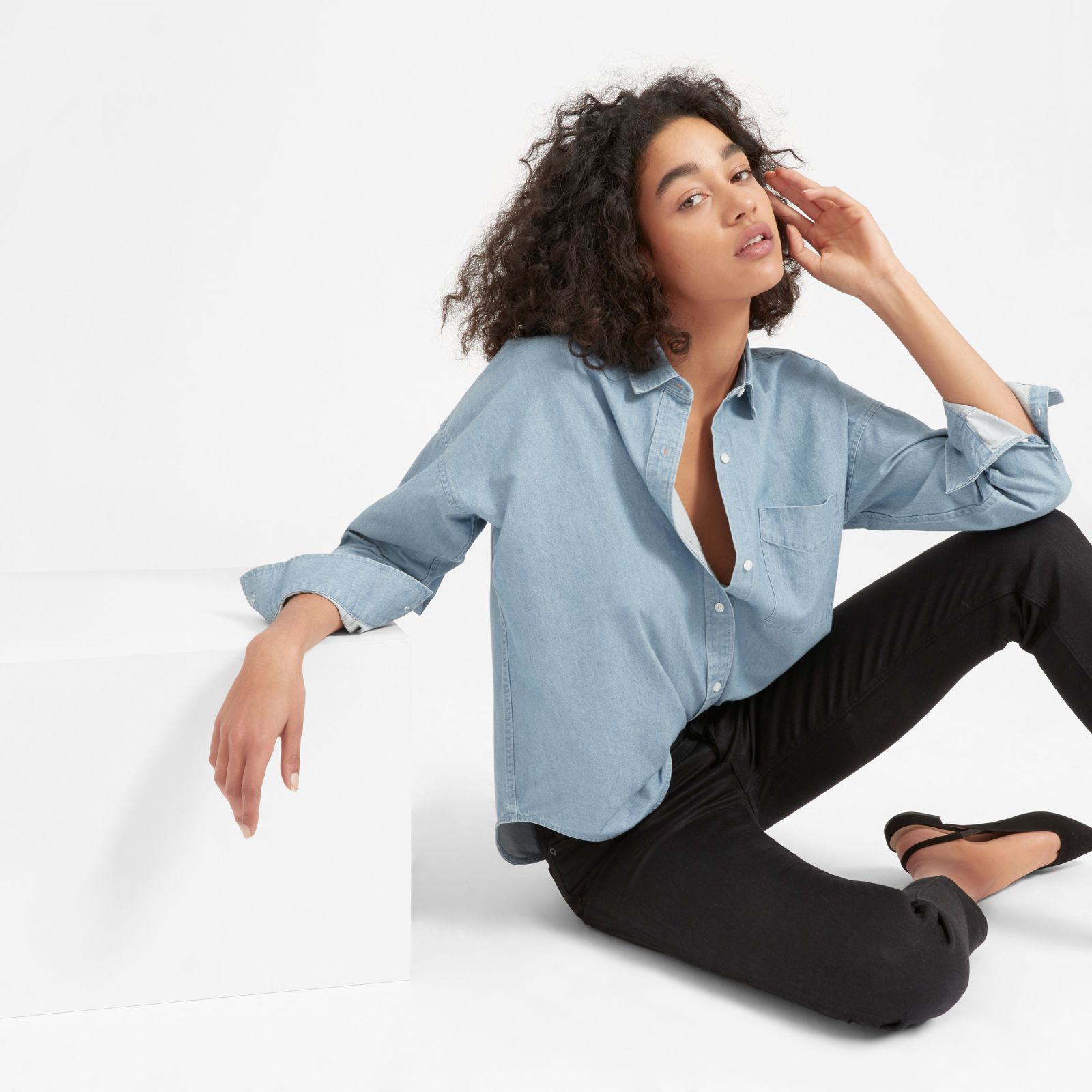 EVERLANE
Square Jean Shirt by Everlane in Light Indigo, Size 14
LOST INK
Nude Ballet Shoes - Beige
La Moda
Crochet Cover Up
With its salmon hue, this knit lace dress is a bit trickier to pair. It's not that deeper tones don't work for fall, because they do, but layering is always much more simple when working with neutrals. For this one, definitely be sure to color match one item, preferable your booties. And then go for denim and a white tee to keep things classic.
LA MODA
Crochet Cover Up
HEARTBREAK
Pug T Shirt - White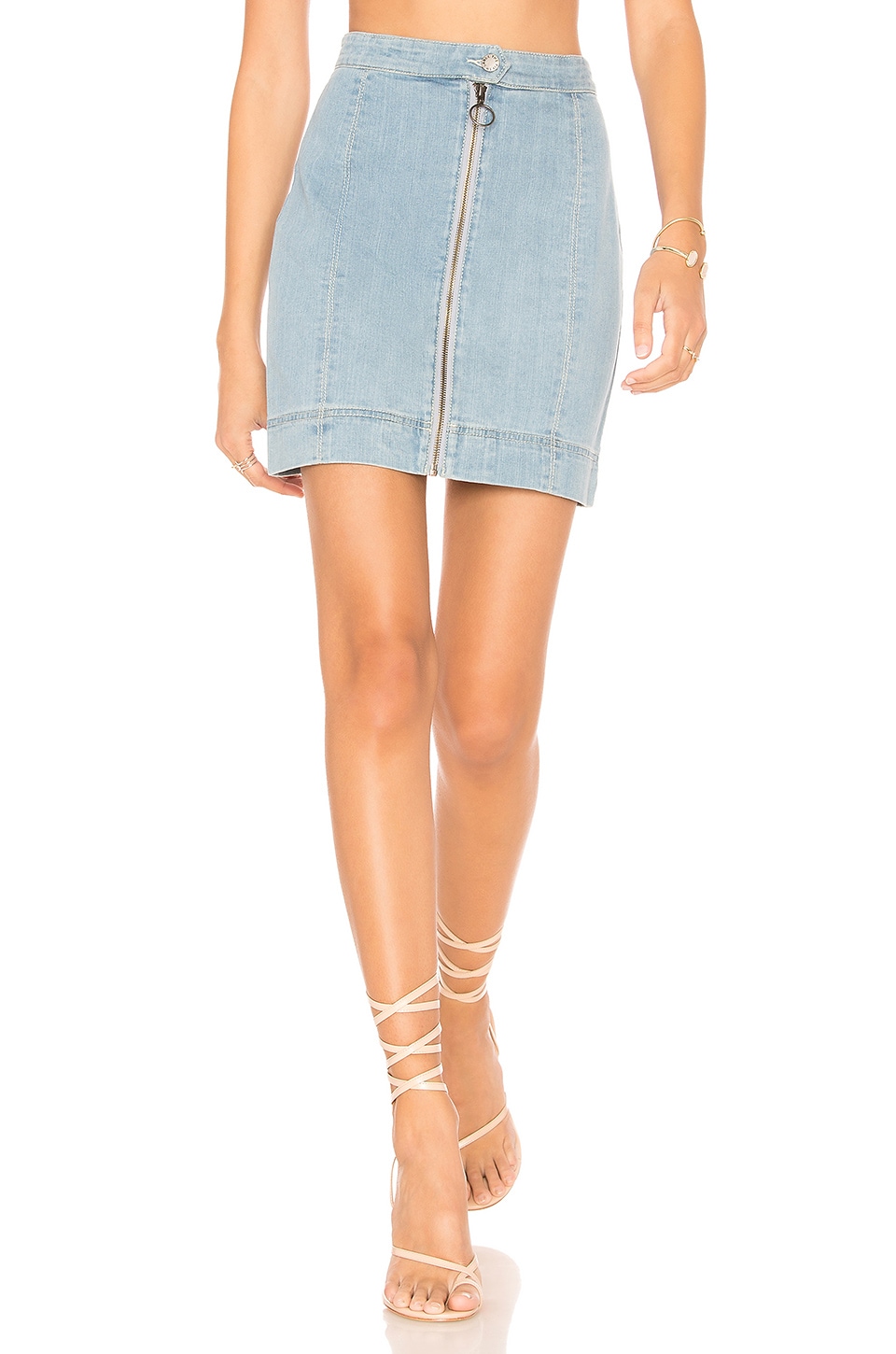 THE FIFTH LABEL
Day Dreaming Skirt
NEW LOOK
Square Toe Heeled Boot - Pink
Boohoo
Mesh Maxi Beach Cover Up
With this maxi-length sheer lace dress, opt for a black t-shirt dress and a timeless pair of Chelsea boots to go for a sleek yet slightly edgy appeal, then finish the look with a denim jacket.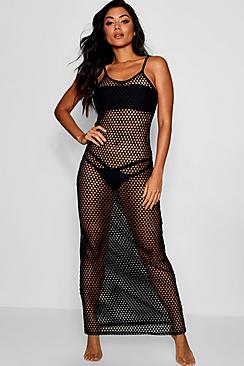 BOOHOO.COM
Mesh Maxi Beach Cover Up
STRADIVARIUS
Jersey T Shirt Dress - White
HUDSON
Oversized Denim Trucker Jacket
MATISSE
Moscow Chelsea Boot, Size 7.5 M - Black