Remember when jumpsuits were a thing of kitsch rather than an essential part of our day-to-day rotation? The aesthetic of the overall garment brings together the ease of styling that comes from dresses and the casual appeal that comes from trousers. Now trends are all about unique takes on everyday items or taking a new perspective on styles that used to be unappealing. And the jumpsuit fits right into that description.
The very first iteration of jumpsuits as we know them was intended as an attire for parachuters and skydivers—hence the name jumpsuit. From here, the style was adopted by workers of a wide variety, starting with pilots and moving into blue collar labor workers. Way back when, the jumpsuit was called a "boiler suit," and was very prominent in the industrial revolution of the late 19th century. Workers wore these garments as a protection from workplace hazards of the time, such as grime, sparks, oil, and soot. Think antique photographs you've seen of railroad workers and coal miners. Denim overalls recurred throughout history as a functional and convenient garment for workers, both men and women.
In the early 20th century, an Italian artist and designer, Ernesto Michahelles, introduced a new version of jumpsuit, a simple cotton piece called the TuTa, to make a statement against the bourgeois as he intended to dress the working in a more fashionable jumpsuit. Michahelles' plan backfired, however, with upper class shoppers gaining an interest in the look and thus adopting jumpsuits into high fashion styles.
Not too long after, fashion history's favorite rebel Elsa Schiaparelli secured the jumpsuit's place within women's fashion. Designed in the late 1930s, Schiaparelli's jumpsuits were rendered in green silk with large front pockets. Unfortunately as wartime started the more luxurious fabrics Schiaparelli preferred for her design became scarce and jumpsuits were put on hold until the later half of the century.
In the 70s, other designers started to take a cue from Schiaparelli's jumpsuits, and fashion icons like Liz Taylor, Jackie O, and Audrey Hepburn jumped on the bandwagon. Musical stars started to integrate jumpsuits into their signature looks, with the obvious being Elvis Presley, as well as later 70s and 80s rockers like Freddie Mercury, Mick Jagger, and the oh-so-fashionable David Bowie. Jumpsuits had reached their prime in the 1970s, as the disco movement embraced their kitsch and the style became almost synonymous with the genre.
Jumpsuits have solidified their place into modern fashion, and in today's current trends, they are an essential for all year round styling. Jumpsuits have become so versatile that we can find one for any occasion—formal wear to athleisure and everything in between. While we all fill our wardrobes with little short rompers in the summer, ideal for anything from beach days to lounging days and even to parties, the fact of the matter is that the garment is just as important in the cold-weather months as they are in the summer. When selected with long sleeves and warm materials, jumpsuits are exactly what you need for fall and even winter.
The Top 6 Long Sleeve Jumpsuits To Dress Up With This Fall
Monrow
Crepe Long Sleeve Jumpsuit
Designed with an elasticized waist and a skinny waist, this piece features side seam pockets and banded leg openings for added comfort. Its exposed front button closures and button cuff sleeves add a sophisticated touch. Jumpsuits in crepe with long sleeves such as this one work perfectly dressed up with a neutral pair of stilettos, a bomber jacket, and a small clutch bag.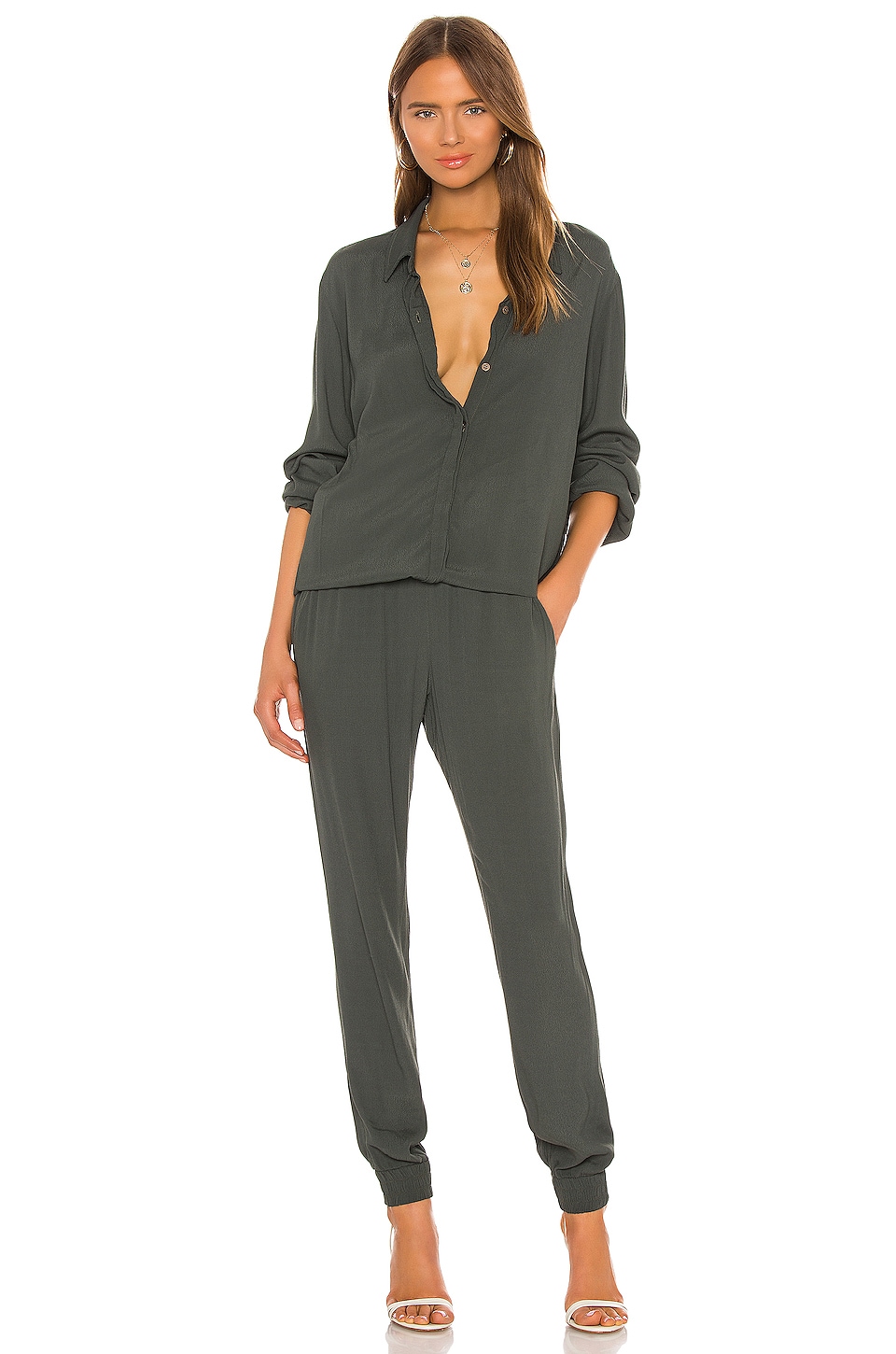 MONROW
Crepe Long Sleeve Jumpsuit
GIANVITO ROSSI
105 Suede Pumps - Gray
JIMMY CHOO
EMMIE Nude Patent and Suede Clutch Bag
VINCE
Reversible Bomber Jacket
Diane Von Furstenberg Long Sleeve Jumpsuit in Brown
The ever artful Diane von Furstenberg collection works wonders on jumpsuits just as it does its signature wrap dresses. This particular beauty is done in an on-trend all-over animal print and is crafted from a light silk crepe de Chine fabric. Its bow detail and sheer panels at the shoulders and back elevate this refined garment. Wear yours with black pumps and a black bag.
DVF DIANE VON FURSTENBERG
long sleeve jumpsuit - Brown
NINE WEST
'Tatiana' Pointy Toe Pump, Size 9 M - Black
COS
MEDIUM LEATHER CROSSBODY BAG
PRADA
Wool-blend cardigan
Boohoo Bardot Long Sleeve Wide Leg Culotte Jumpsuit
With a classic and refined Bardot neckline and wide leg culotte form, this sleek jumpsuit is excellent for elegant events. It is inspired by 70s styles, harkening back to the history of jumpsuits. This lovely piece styles well with ankle-strapped pumps, a leather jacket, and a crossbody bag.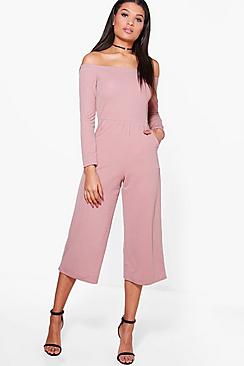 BOOHOO.COM
Bardot Long Sleeve Wide Leg Culotte Jumpsuit
JIL SANDER
Leather Bracelet Strap Pumps - Womens - Nude
MACKAGE
Stassi Crossbody Bag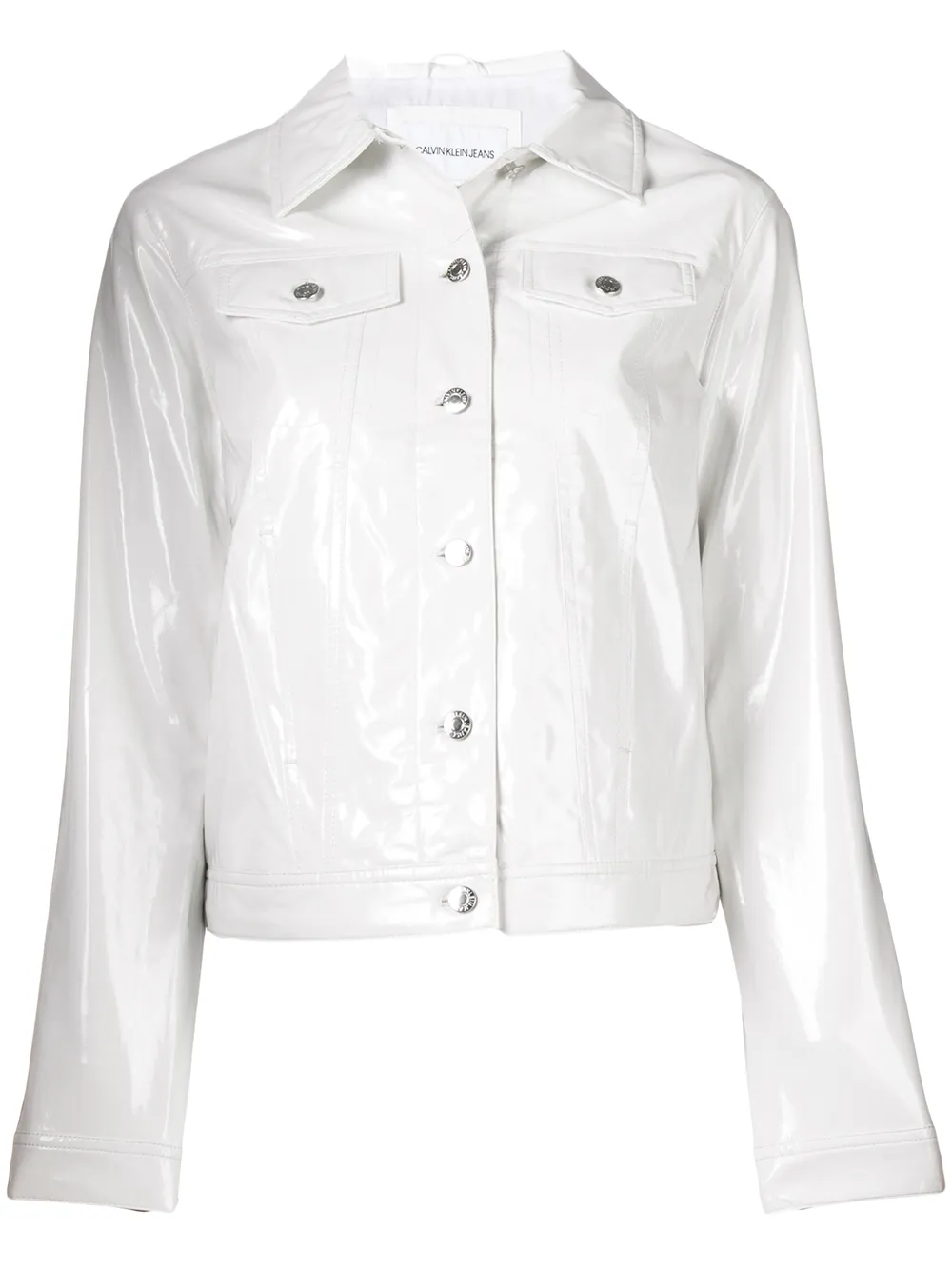 CALVIN KLEIN JEANS
patent casual jacket - White
& Other Stories
Utility Workwear Boilersuit in Black
Clearly inspired by the working class boiler suit attire in the history of jumpsuits, this stylish piece from & Other Stories takes the jumpsuit into the 21st century and into your dressy fall rotation. This piece features an adjustable button waist belt and large workwear pockets for functionality and heritage style, as well as a sleek dark tone and a skinny leg for added sophistication. Wear this jumpsuit with pointed-toe ankle boots and a colorful clutch. Add a trench coat for chilly days.
OTHER STORIES
Utility Workwear Boilersuit - Black
SALVATORE FERRAGAMO
pointed toe ankle boots - Black
SALVATORE FERRAGAMO
Vara Leather Clutch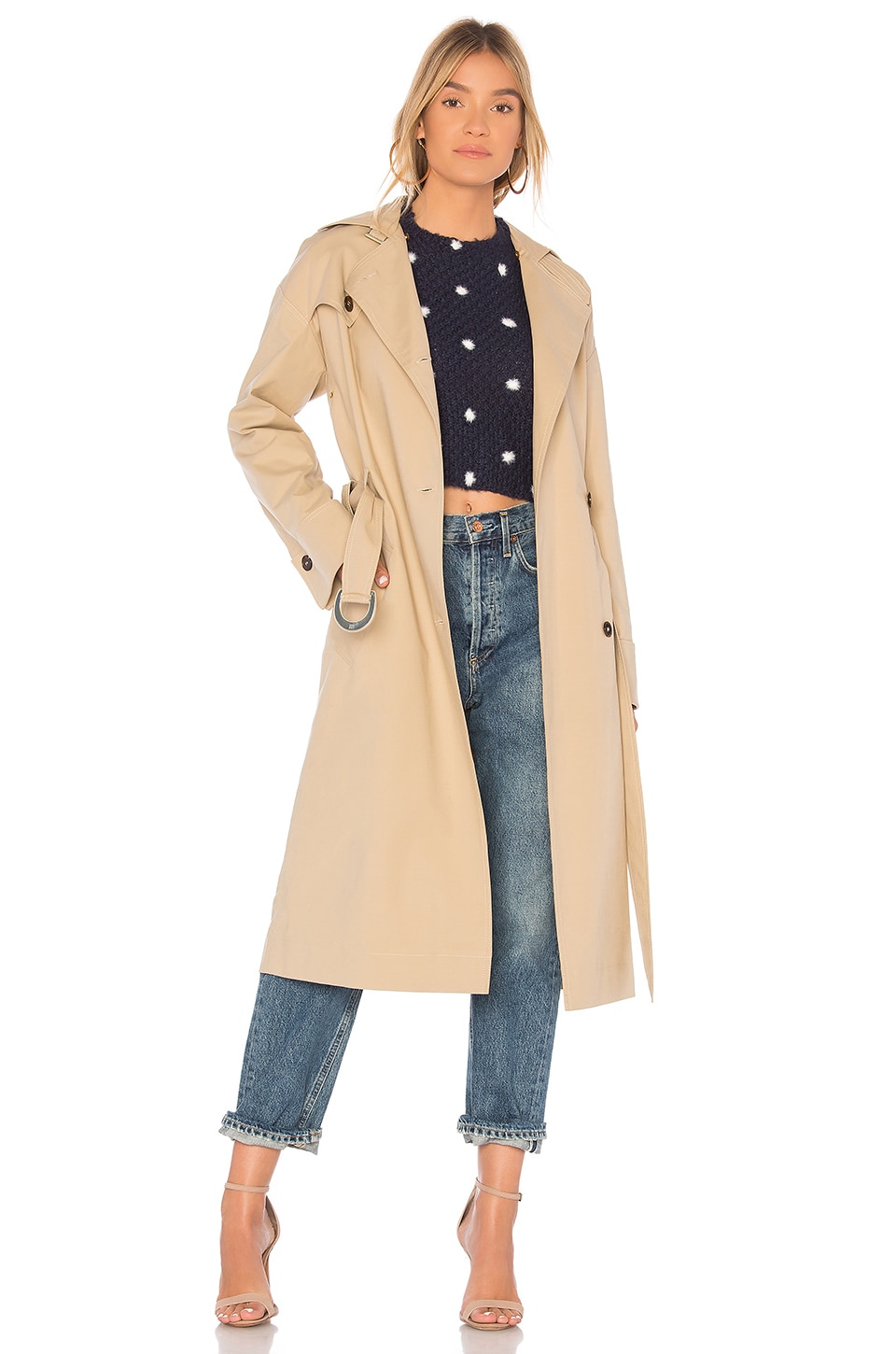 NANUSHKA
Dakota Coat
Topshop Satin Strappy Jumpsuit in Ivory
Done in an ivory satin hue, this jumpsuit is ideal for formal events. Its strappy style lets you pick how to pair it, but we recommend a long sleeved patterned top or a cable knit sweater for a colder day to ensure a visual contrast. We love its crop length because it effortlessly flaunts any shoe you choose to wear. We suggest an ankle strap pump or a short bootie.
TOPSHOP
Satin Strappy Jumpsuit - Ivory
LOUISE ET CIE
Sonya Pointy Toe Bootie, Size 6 M - Pink
TRUFFLE
Clarity Crossbody Bag -
ENGLISH FACTORY
Leg of Mutton Sleeve Top
French Connection Patras Crepe Long Jumpsuit
With its sleek silhouette and skimming fit, the Patras jumpsuit from French Connection is a stunning piece. Done in a sophisticated crepe and with an off-the-shoulder sleeve, this piece is one the most evolved jumpsuits from their original boiler suit style. Team this long garment with a pair of white or nude stilettos and color-match a clutch bag to the shoes. Opt for a trench coat or a leather jacket on chillier days.
FRENCH CONNENCTION
Patras Crepe Long Jumpsuit
KATY PERRY
The Memphis Pump
SERPUI
Pineapple Wicker Clutch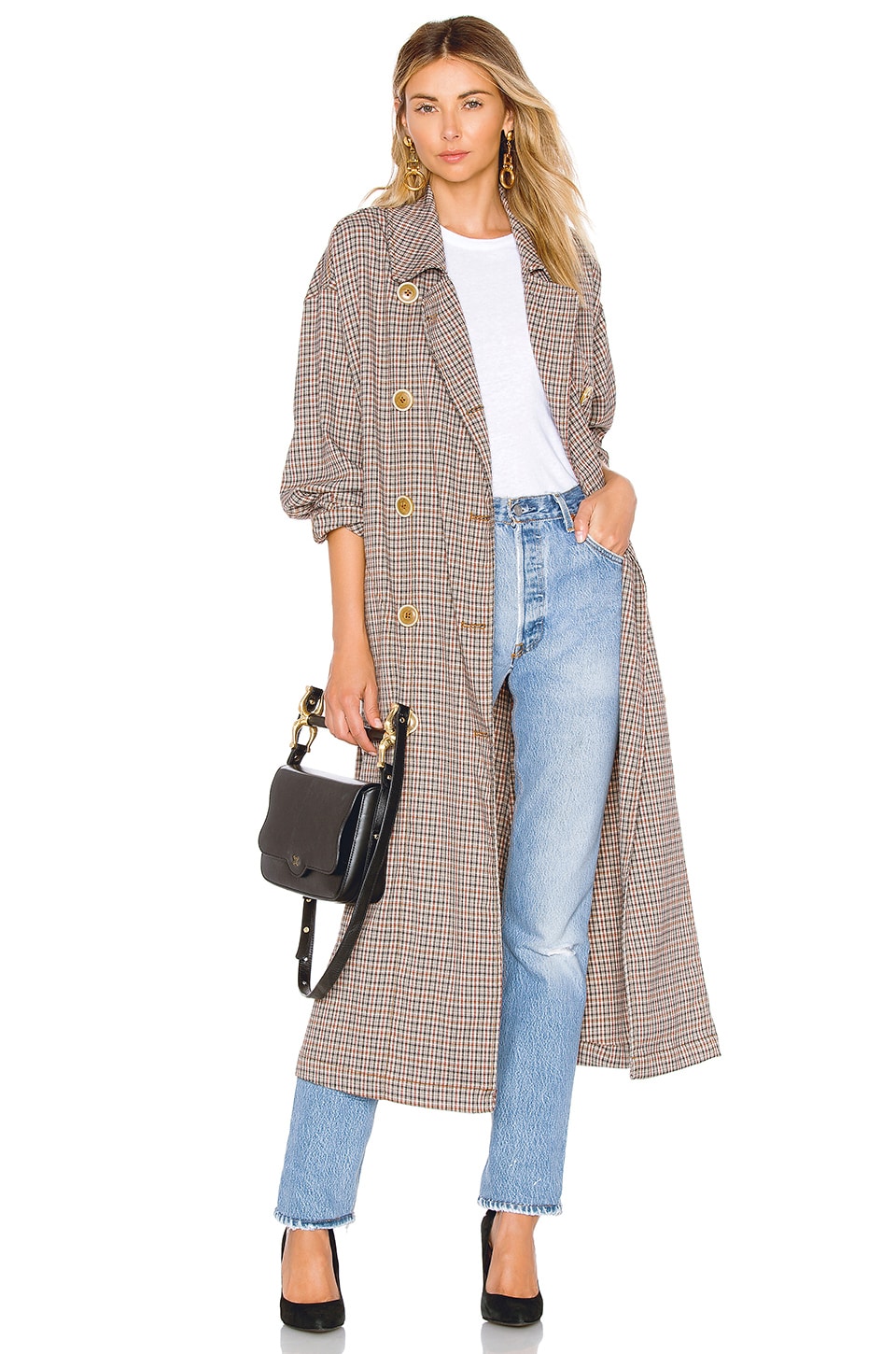 FREE PEOPLE
Melody Menswear Trench Coat